How awesome is this. Shutterfly just keeps giving!
If you share a photo project on your blog, they will send a $25 gift certificate...how awesome! Here are the details:
"Help us spread the word. Embed project and receive a $25 gift certificate. Here's how:
Embed your project on a blog or Web site you own. Email an active link (no screenshots, please) to the Web page containing your embedded project to: shareproject@shutterfly.com. We will confirm placement and reply to your email with a discount code.
Limit one per customer.
How to Get this Deal
1.Login to your Shutterfly account
2.View your projects
3.Choose one and click "Share Project"
4.Give it a name
5.Embed the code on your blog
So here is one of my most recent projects. It's Kylie's birthday invitation and I loved how it turned out.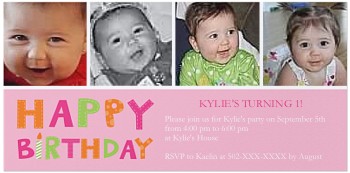 Having Fun Girl Birthday