It has been 10 days since I last posted! We had one full weekend of fun activities and a pretty busy week. I am officially off work until Tuesday! Tomorrow it will just be me and the babies and I have a couple of fun activities planned for the day. My MIL has been at our house keeping the kids since Friday (Thanks Paula!) because Kylie's sitter is off for two weeks. Good thing she has been here because Blake has had Rotavirus (fancy word for throwing up and diarrhea). He seems to be getting over it now (thank goodness) so lets just hope that Kylie doesn't get it now.
Our weekend started last Friday night with Aaron's work Christmas party at French Lick Resort in French Lick, Indiana. I had never been there before but have always wanted to go (Aaron was excited because it is also a casino). Our room was gorgeous and the hotel was amazing. Here are the only two pictures I took the whole night but you can see more of the resort
HERE
.
Saturday we met my family out for my sister's birthday. I am so bad because I didn't even post on her birthday (sorry Kristin!). So here it is!
Happy Birthday Kristin! You are the best sister anyone could ever have!!!
Happy 31st Birthday!!
(she kept telling everyone she was 21!)
Here is a picture of a few of us after dinner. We went to O'Shea's to have a couple of drinks and we had a good time!
Megan (Kristin's BFF), Aaron, Me, Kristin, Jeremy (I love his face in this picture), Brad and Jonathan
On Sunday we had our first Christmas celebration with my dad's side of the family. We had a great time and it was so good to get to hang out with the family.
The Grandkids and Great-Grandkids
And I had to include this picture. This is from our attempt to get a picture of the kids for the Christmas picture. I was pretty close to making this our Christmas card but decided against it.
Here is our final from our Christmas card. I told Kylie to give Blake a kiss and this is how it turned out. It was the best one we took!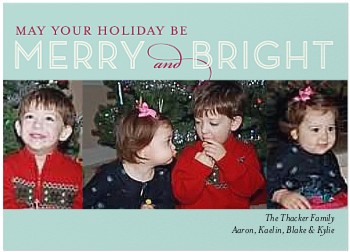 Bright And Merry Christmas Card

I hope everyone has a wonderful Christmas! I know I will! They are expecting for us to have a white Christmas as of today (they said 1-8 inches this morning), but that may change. Everyone be safe and keep warm!